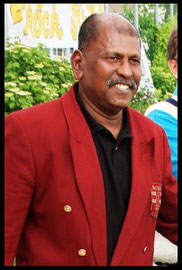 Dear friends!


We are very sad to inform you that our dear friend Siva Nadarajah passed away a few days ago.
To us he was not only a great teacher and generous host, but most of all a friend for the whole community in Austria and everybody who has ever met him will miss him. Our thoughts are with his family.
On Monday (May 20th) at 10:30 the Sri Lankan community wil perform a religious memorial service at the ACC ground and the whole Touch community is invited to attend.
On Saturday (May 25h) from 9-11:00 you can also say goodbye to Siva at the Aufbahrungshalle, Friedhof Oberlaa, Friedhofstrasse 33, 1100 Wien
Read more...
We hope that many of you will have time to join us to say our good byes as Touch Austria.
Yesterday new and old players, active and inactive members of Touch Austria gathered at the ACC to say good bye to Siva as a group. After some touching words by Phil we cheered to Siva one last time. Harlan then invited us in a symbolic gesture to take a few minutes time and pick some weeds off Siva's beloved and most carefully tended lawn. With so many hands we managed to fill up to big bags full of dandelions and weeds. The atmossphere was silent and reflective but lively. Then we threw some friendly balls, played Touch in Siva's spirit and had beers afterwards. That's the way he always wanted us to do it.


In case you missed yesterday there are two more chances to say goodbye to Siva, You can join us on Monday (May 20th) at ACC for a Sri Lankan goodbye ceremony or on Saturday (May 25th) at 9:00 at the Friedhof Oberlaa.