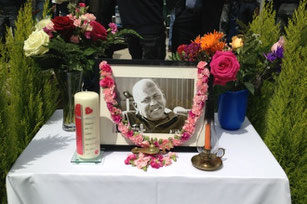 We will say goodbye to Siva this Monday May 20th at 10:30 at ACC grounds. At about 13:30 there will be a Touch game in Sivas memory. Training in the evening is cancelled!
All Touch players are cordially invited to join, no matter if they be new or old, active or inactive, if they been close friends to Siva or just had heard from him in this sad moment.
After a religous ceremony by the Sri Lankean community, there will be a cricket match, by the ACC youth, followed by a Touch game later on in honor of Siva at around 13-14:00.
We would like to appear as a group for the ceremony, so please bring your ACC jersey if you have one or just a simple yellow shirt. Some ACC jerseys will also be provided at the grounds. Since it is a religous ceremony we would recommend you all to wear long trousers in the morning, and change into your playing shorts afterwards.
We would be very happy to see many of you there. Thank you!