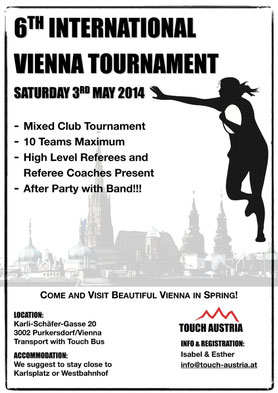 Touch Austria is very happy to announce that the 6th Vienna's international Mixed tournament is coming back after one year break!
When: May 3rd, 2014
Division: Mixed (max. 10 teams)
Where: Purkersdorf/Vienna
After Party with band at Flanagan's Pub!
This year Vienna tournament will host a special referee development event under the direction of Derek Fisher.
For more information please contact info@touch-austria.at
This tournament has been central in the developing Central Europe Touch region as a place to meet, play each other & develop contacts. On top of that we've had visiting teams from Scotland, France and even Egyp coming in the past.
The event will take place at Purkersdorf/Vienna. A Touch Bus for players will leave from subway station Hütteldorf (U4) in the morning and go right to the after party location in the evening. We recommend players to book accomodation close to Westbahnhof or Karlplatz.