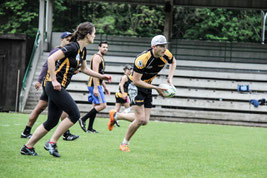 On what might have been the coldest day of Spring in 2014 – May 3rd – the 6th International Vienna Touch Tournament took place in Austria. Six teams and twelve full-time referees braved the elements and froze through a fun and eventful day in Vienna. Tumeke from England - who remained unbeaten in the tournament - claimed the trophy in the final against the Buda-Mix Team from Hungary.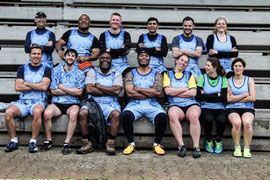 The 3rd/4th place play off was won by the hosts - Lokomotive Vienna - over their long-time sparring partner, Touch Muenchen. A highlight of the tournament was a match up between the 12 full-time referees vs. the Vienna A-Team (with supporters) in the fight for the wooden spoon – bravely refereed by Tom from Tumeke and Randy from Touch Muenchen. In a very unexpected turn of events the Referees Team did manage to beat a shocked A-Team, claiming fifth place in the tournament.
Despite the icy breeze it was a great atmosphere & the games were played in a competitive but friendly spirit which left all teams and referees satisfied.
The referees were guided through the tournament by referee coaches Derek Fisher and Nick Richardson. and by the end of the day two badge upgrades were awarded.
After a successful day Touch Austria is now looking forward to seeing many old and new guests in Vienna next spring!
To see photos from the tournament please click here.