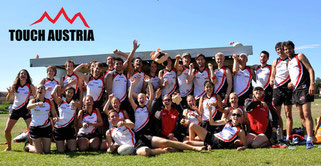 Exiting days coming for Touch Austria!!!
We will host the Mainland Cup 2013 Championships on July 13th-14th in Vienna/Schwechat.
This is so far the biggest Touch event taking place in Austria and we will try our best to give all participants, players, referees, volunteers and officials the best possible experience.
This website provides detailed information about the Touch Mainland Cup 2013 and in a near future you will also find a renewed Touch Austria website under this domain.
So stay tuned at www.touch-austria.at and www.touch-austria.at/mainland-cup-2013
Stay updated with the Latest News about the Mainland Cup 2013. All relevant
information about the Mainland Cup 2013 can also be found under the Event Info and
Downloads sections.
Stay a little longer! If you plan to visit our beautiful city of Vienna or would like to explore Schwechat (the neighbouring town that will host the tournament) before or after the Mainland Cup 2013, we will gladly provide you with handy recommendations and travel tips.