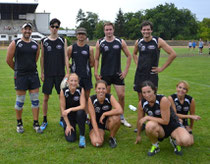 The Lokomotive from Wien as usual departed Vienna the day before the tournament. This gave us time to do some pre-tournament activities on Friday.
After a rather short night – for a few of us at least – we made our way to the fields. Not everyone made it in time to our meeting point at 8:45....read more
Finally, all of us were at the fields and warmed up for our first game. Since most of us hadn't done any sports since Mainland Cup, the first game was a bit of a fitness shocker, Fortunately for us, the other team wasn't quite awake yet at too and had only six players.
The team from the Netherlands was up next. Our team wasn't used to playing against a team with structured drives and a well-coordinated attack. We lost this one even though the almighty Luki was on top form. Our last game in the group stage was against our hosts, Budapest Islanders. A victory against them brought us to the semi-finals of the Cup.
In the semis, our favourite archenemy, Touch Munich, smashed us with straight, fast, well-structured and organised drives and sent us to the small final where we faced The Hague. They also had quite fast drives and very good steppers and we started to feel even more strongly that we hadn't done any sports or fitness training since Mainland Cup one and a half months ago. Even though we lost the small final we won back the Central European Touch Ashes (yeah!) for finishing as the best Central European team (awesome!) so there was enough reason to celebrate!
On Sunday evening after visiting the thermal pools or hitting town to do some sightseeing, the victorious Lokomotive returned to Wien to prepare mentally and physically for the Brett Barclay Cup on September 7th.
Special thanks to:
Ben, Gabi & the rest of the Budapest crew - for organising such a cool tournament!
Joshi - for joining the team last minute and giving everything on & off the pitch
Livia - for overcoming her fears and playing at her first tournament just months after starting to play Touch
Tini - for scoring on the 5m line. Again.
Adi - for being a great player on Saturday & a great tourist guide on Sunday
Hans - for his Matrix-like touchdowns
Hubert - for entertaining us with stories of his life
Luki - for coaching us throughout the day
Frank - for being Isi's special friend
Stefan - for being our full-time photographer & making our team look so much more professional than the others
For pictures go to Photos - Budapest Tournament