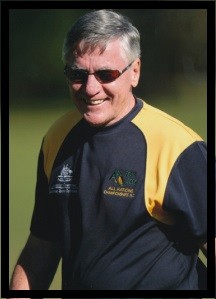 With great sadness we have heard the news about the passing of F.I.T. Secretary General Dennis Coffey.
Dennis was one of the founding figures behind Touch. 35 years ago he started building up Touch in Australia and developed it from park level fun to a professionally run sport. He was central in the development of Touch rules and gameplay, shaping the sport into the game we love to play now.
Dennis travelled around the globe to develop Touch outside of Australia and New Zealand. Some of us had the honour to participate at the first ever Level 1 Coaching Course of mainland Europe, which took place in Munich, 2008.

Dennis also visited Vienna a couple of times to support us in the development of Touch in Austria. He was a driving force behind the efforts to reach F.I.T. membership, which lead the foundation of Touch Austria as association. Without this we would not be able to participate at the Euros, World Cup or Mainland Cup. "DC" always saw the potential of Touch in Austria and pushed us forward to where we are now.
It was always an absolute pleasure to talk about Touch with DC, his experience, knowledge and vision of the sport was truly amazing.
We are very thankful to him for all the inspiration and motivation he brought to us, helping us to grow and florish. We owe him a great deal!
Our deepest condolences go to his wife Carol and his family. Our thoughts in this difficult time are with them.